In my ten months of being with PK, I've visited over a dozen cities, and met hundreds of men both young and old, and in between. I've met men who are passionate about seeing God move in their church, community, and their family. I've also met men who spoke about how through PK God turned their life or marriage around, got involved in ministry or setup their own, or had gone into business and God has been faithful over the years. Hearing these stories has been an immense blessing to me - seeing the goodness of God in people's lives.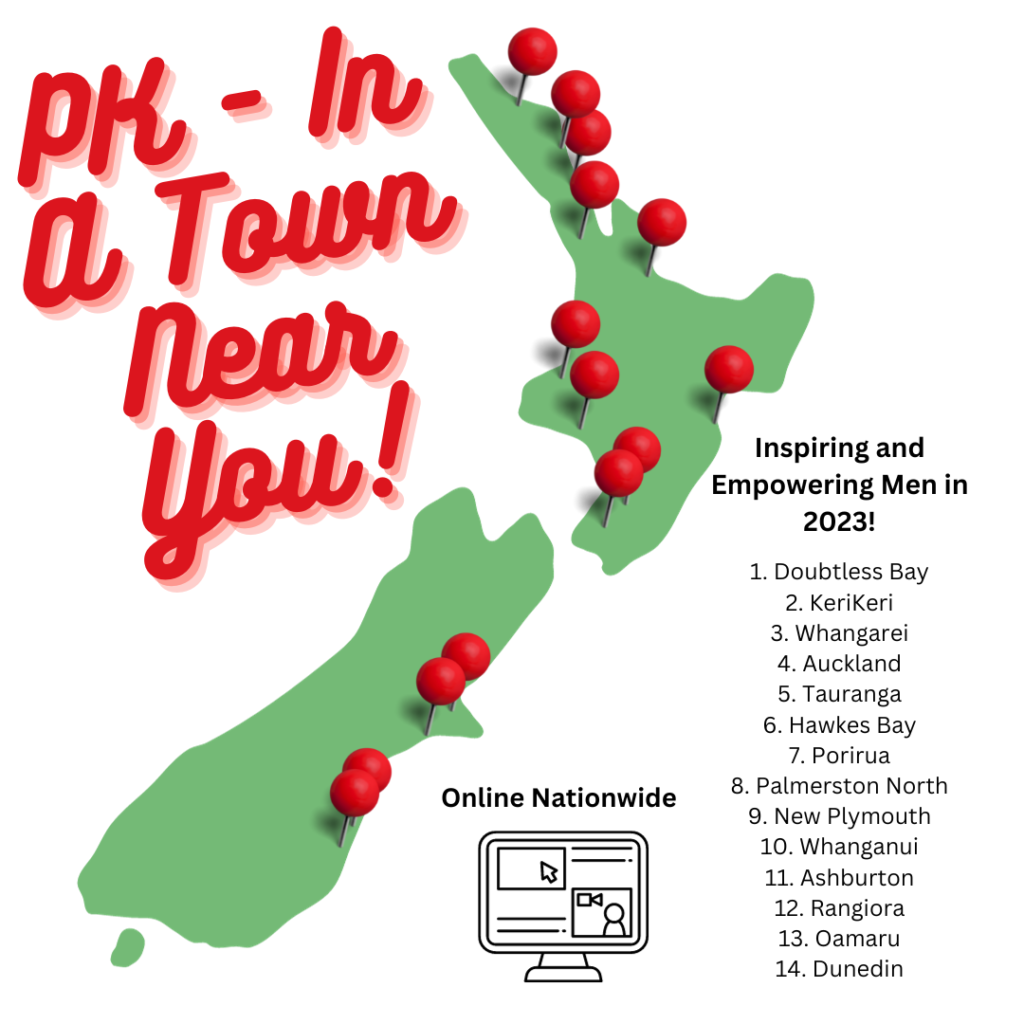 After all this touring around the regions, I've come to learn a few things. One thing for sure, is that we are heading into a new season, and we need to adjust our sail to ensure we are sensitive to the Lord's guidance and His heart, and I want to capture His heart. We must understand what was written in the Bible in relation to what is currently happening in the world, particularly in Israel. Don't worry, I'm not getting into politics. But we must not bury our heads in the sand because that's what the enemy wants us to do, particularly in New Zealand. As part of the body of Christ, we can honour and respect each other, but put the focus where it belongs – saving souls for Christ's sake.
Furthermore, I am no longer interested in doing ministry for the sake of keeping a ministry going to reach another 30 or 50 years from now. We are on this earth for a purpose, and that purpose is not to die rich, or die satisfied with our chosen career, or some other world changing invention. Rather, in whatever field of expertise you're in, point people to God so when they come to face the Father, they'll dwell with Him for eternity. When you come to meet the Father; He'll say to you, "well done my good and faithful servant".
Promise Keepers, in nearly 30 years, has seen hundreds if not thousands of men come to the Lord. It was known as a 'big event' organisation. Whilst that is true, fundamentally it was always about helping men to come together in small groups (4x4), to encourage each other to grow in their faith. Each man will in turn help his family toward serving God in His house or in the marketplace for the glory of the Father in heaven.
In view of this, in the new season, I believe the Father is looking for soldiers of the faith to come together. Young and old, broken or not, but hungry to save the lost, and point people to the cross. We need to come out of isolation to continue marching for the Lord - together. A little light on its own lights up a small area. But when we come together, we light up a city.
When Jesus built His church, He declared that 'HELL' will never overcome it. It's a promise we often forget in our quest to fight evil running rampant today against God's church. So let faith rise up, and remind ourselves that God's promises are Yes and Amen.
In the next season for PK, I feel the Lord wants us to go back to the basics, to call out all men from isolation to stand together, sing together, pray together, and travel together to encourage men in other regions. We want to go back to discipling men young and old, in small groups. We want to work with local churches and through men to impact their local community. The harvest is plenty, and the Lord is looking for more workers.
To continue the work through PK, I want to ask you to pray for us that we do what is in the heart of the Father, and not our own desires. Please pray for God's provision and for more people to join us so we can continue the work in the new season ahead.
Pray and ask the Lord how He wants you to respond. Is He calling you to support PK financially, regularly pray for the ministry, start a men's group? Together we can fulfil His mission to go and make disciples of all the nations, baptising them in the name of the Father and of the Son and of the Holy Spirit.
I pray for God's richest blessings as you look forward to the next season in God's purpose.
In His richest blessings,
Frank Po Ching
PKNZ National Director