Be Ready in Season and Out of Season
In January and February this year, the unseasonable rainfall and tempest that was Cyclone Gabriel, caused devastating floods, loss of life and livelihoods. Entire communities were cut off from essential services and supplies and family members were uncontactable. Rebuilding from such an extreme event can seem daunting and for some with no reserve or any means to fall back on, an insurmountable hill to climb.
How you prepare yourself for this or life's other extreme seasons, given the myriads of mitigating actions one might take, is perhaps a question better answered after the event.
'Be ready in season and out of season' in a very different way, came alive for me in January this year in the Coromandel. The East Coast felt like the West Coast. The surf was wild and angry. It wasn't for the faint-hearted surfers or swimmers. The wind didn't help, and it kept sunbathers from the beach at times. Campers packed up and headed home earlier than planned before the rain and the wind arrived.
One day, I mastered up the courage to swim in the surf. I love swimming. There was hardly anyone on the beach or surfers out. I swam out far enough not to touch the bottom, then swam parallel to the beach. After a while I noticed the landmarks indicated I only swam a hundred meters or so, but it felt much longer. Puffed and frustrated, I called it quits and headed home.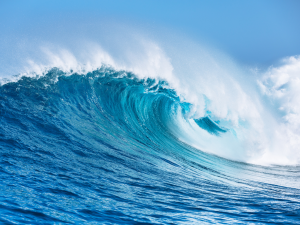 Two days later, I was determined to do better. The surf was pumping. The sun was out, and the beach was littered with people trying to catch-up to my tan. At the back of the surf breaks, it was surfers galore.
I was determined to swim out to the back where the surfer's hangout. I've done it hundreds of times with no problem. With my wetsuit, goggles and fins on, I was in the water. I got straight into the rip to get out easier. This was my plan. However, I underestimated the power of the surf. It was like being in those old wringer washers. After ten or 15 minutes, I could feel my legs cramping up. I was still in the rip. A surfer on his way in, was close enough to ask if I was OK. I told him I was cramping up and I thought I needed to signal for help. He kindly offered for me to hold on to his board fins, for me to kick and he'll paddle. I felt sorry for him, but also relieved.
Eventually we made it in, and my legs were extremely sore. I could hardly walk or stand. I noticed sunbathers were on their feet watching the surfer tow in a 120kg whale. A catch my lifesaver would have been happy to cut loose, but he was on a mission. I shook his hand and thanked him, then he walked off before I could get his name. I didn't care much about the on-lookers, I was just happy to still be breathing. The water from the cold shower on the grass by the beach tasted sweet, almost like honey.
At that moment as clear as day, I heard the voice of the Lord in my heart say, "Be ready in season, and out of season". I thought, 'yes I really need to be physically fit and strong again'. For the next hour or so as I sat in the car reflecting on what just happened, I realised what the Lord was saying, 'Preach the word! Be ready in season and out of season' (2 Timothy 4:2). In less than four weeks, I was due to join the PK team. If I hadn't received earlier confirmation from the Lord about joining PK, this would've been it.
Getting fit spiritually is seeking the Father, His heart, and His Word, and with one another. In a season of turmoil like we are in now, we will need to be spiritually fit. Friends let's go on a fitness journey together.
God's richest blessings,
Frank Po Ching