What Yesterday's Wars Teach Us About Today's Battles
We are all different and have divergent interests even when we are broadly interested in the same thing. I am a bit of a war history buff myself and have been interested in battles in air, land and sea since I was a child. I have a friend David Dusek who is also a war buff, and he maintains that we tend to have interest in one particular war. He says his war is the Vietnam War, mine is World War Two. I can vividly remember as a child excitedly going to the local bookstore to get my already ordered Commando Comic as soon as it had arrived. More latterly I inherited from my parents a collection of biographies dating from the early 1950's about men and woman who were involved in World War Two. I have added quite a number of books to this collection. Many of these are about aerial warfare of the period and I am really interested in the Battle of Britain.
This has meant I have visited many war museums all over the world. In 2008 I was excited to spend a day at Duxford Imperial War Museum which was a Battle of Britain air base. On that day I purchased a tin plate souvenir of a shortened version of Winston Churchill's famous speech on the Battle of Britain, "Never in the field of human conflict was so much owed by so many to so few". It hangs on my wall in my office because it reminds me that I am at war. Our enemy has come to steal, kill, and destroy our faith, our lifestyle, and ultimately our families. It is so easy to forget that we are in a spiritual conflict, and our enemy would love us to forget this too.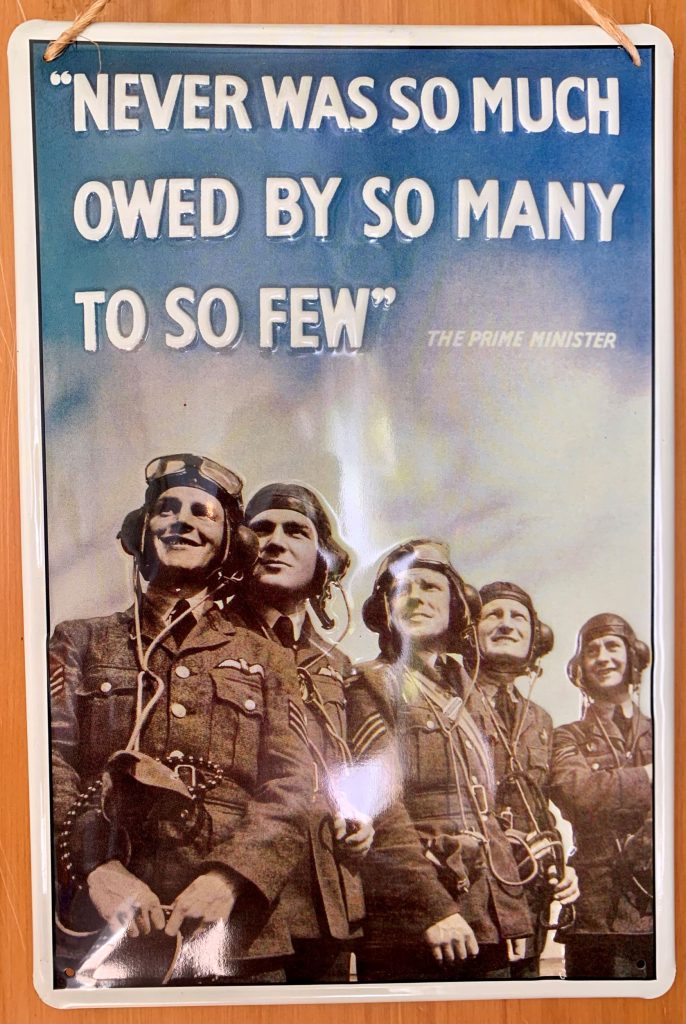 I am the spiritual leader in my home, and I am at war. Just as it was in the Battle of Britain, the enemy keeps coming in a relentless fashion. I cannot afford to take a day off, or be too tired, because the onslaught is getting stronger and stronger over recent years. To quote David Dusek, "When the Bible says kill, steal and destroy, it literally means kill, steal and destroy you and your family." He (the Devil) is not playing games, and neither should we be. He is looking to take you first and foremost because you are your family's spiritual cover. Unfortunately, internet pornography has become a master stroke on the Devil's part, to take so many of our men out of the game. They feel they can't take a stand in prayer, with the Devil's voice reverberating in their head about their unworthiness.
There is good news however, you are not alone. Men have gone before you and shown the way. There is strength in numbers, but the enemy wants you alone, unable to fight because of the sin in your life. The last thing he wants is for you to get real and honest with another man, because then he knows he is starting to lose his grip. Do you need to share things with another man? Then do it! Even better yet join a men's group and become a band of brothers.
"For we do not wrestle against flesh and blood, but against principalities, against powers, against the rulers of the darkness of this age, against spiritual hosts of wickedness in the heavenly places. Therefore take up the whole armour of God, that you may be able to withstand in the evil day, and having done all, to stand." (Ephesians 6:12-13)
These words reach forward nearly 2000 years and are still true.
The time has come to enter the fight in a way where you can win! If you are concerned about your pornography use, the last Set Free Conquer group for the year will start online on Monday 2 November in the evening. Set Free testimonies tell us it can change your life, your family, and reinstate your destiny. It is your choice!
Is this you? Contact me on pk@promisekeepers.org.nz with your name, phone number, email and region where you live. Together we can make it happen! Find out more about Set Free [here]
Blessings
Paul Monahan
Get strength for today and hope for tomorrow. Sign up to PK emails that will empower and encourage you.