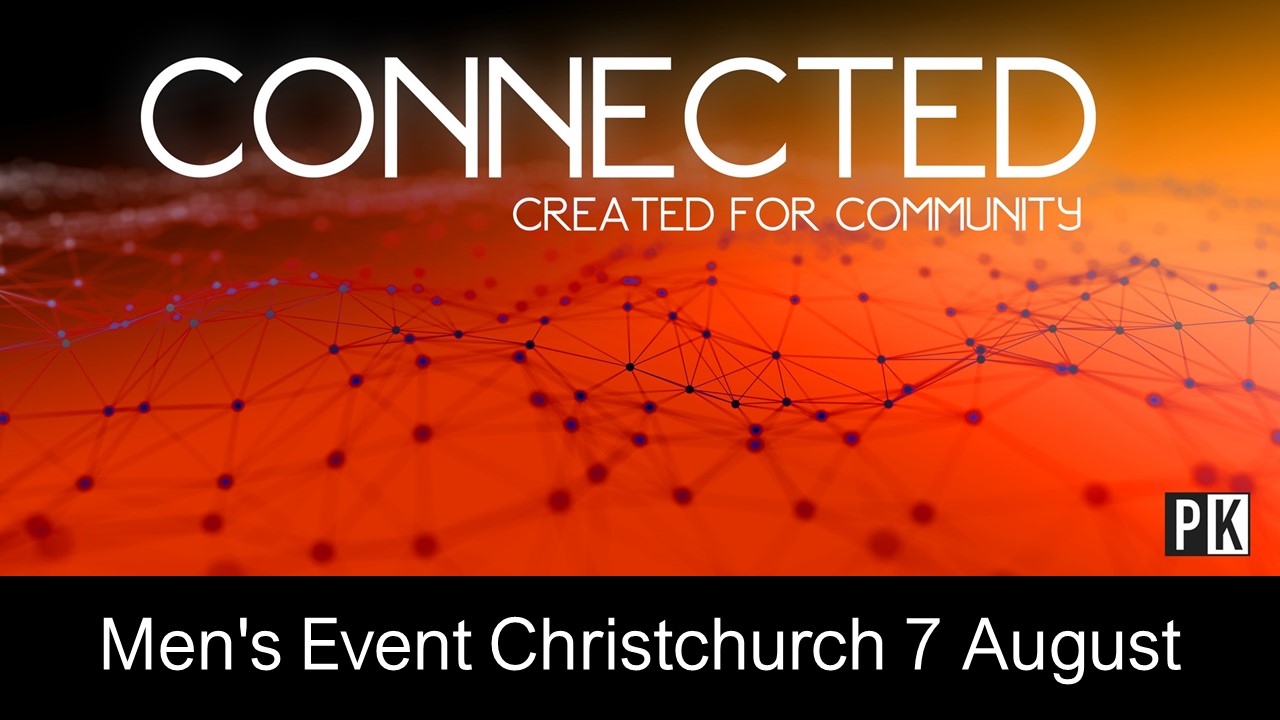 Time
Saturday 8.45am - 4.30pm
Venue
The McFaddens Centre, St Albans Baptist Church, 64 McFaddens Road, St Albans, Christchurch
Being connected to God and to community empowers us to enjoy a life worth living! 
We thrive when we live this life connected with others. You were never meant to do this life alone.
Isolation destroys connection. Why do we allow busyness, shame, or selfish pursuits to prevent us from the connections that really count? To become isolated, we literally have to do nothing. However, connection requires living out proactive, intentional decisions. Connection is action!
Relationships may not always be easy, but they are so worth it. We all need encouragement and skills to navigate key relationships well, whether with our spouse, our children, our mates, our community.
Come along to PK and gain encouragement and skills to grow healthy connections with great people.
Get connected to community at PK2021!
CHRISTCHURCH KEYNOTE SPEAKERS:
Aaron Ironside, Communicator and Counsellor
Luka Robertson, Senior Leader at Hope NZ
Plus more dynamic speakers including Michael Hempseed, Paul & Bev Monahan, Mike Collins, Grant Norsworthy, Peter Goulter.
8 Electives to choose from
Bring your friends and share the experience
"And let us consider how we may spur one another on toward love and good deeds, not giving up meeting together… but encouraging one another." Hebrews 10:24-25
EMBRACE PK invites all men to come to Connected PK 2021. No matter where your journey has taken you; good or bad. You are welcome!
ENCOURAGE Participating in this event with hundreds of other men will boost your passion for life!
EMPOWER PK is changing lives for the better. At PK 2021 you will get some of the tools you need to move forward in your life with confidence.
(Event information subject to change)
Christchurch Elective Speakers and Topics 
Elective Options Session 1: 11am - 12noon.
4 F Words That Can Help Your Life - Aaron Ironside - Keynote Speaker, Counsellor and Communicator.
Tools to help identify and manage stress and burnout. This is a timely message as Aaron points out burnout signs are reportedly 33% higher in the last 12 months and 31% of workers are close to burnout. (Glint survey and AUT study.)
Stepping into the Presence of God - Peter Goulter - Author, prayer leader and PK Board Member.
Reflective time in God's presence with activities to help you connect with God. Opportunity for prayer ministry. There is no better place to be than in His presence. If you struggle to find His presence, or desire to seek more of His presence in your life, then maybe this is an elective for you.
Porn - The Journey Back to Reality (new time slot) - Paul Monahan - PKNZ National Director and Set Free leader. With Bill Stringer - Set Free group leader.
In a fantasy-soaked industry its sometimes difficult to get back into reality, but it can be done, find out how. Pornography is a considerable barrier to us remaining connected to others in our marriage, our families and in our workspace. When our fantasy life begins to dominate, our connection with reality and others can be seriously challenged.
How Evolution Hurts Science and People - Mike Collins - Creation Ministries presenter
See how thinking Biblically helps us to better interpret the world and care for its inhabitants. 
Elective Options Session 2: 1pm - 2pm.
Exploring the Greater and Deeper Meaning of Worship - Grant Norsworthy - Grammy nominated musician and producer of "The Blessing | Aotearoa/NZ".
Worship is broader than you may think. Within contemporary Christian culture, we can so easily speak and think of "worship" – whether consciously or subconsciously – as merely the music in our church gatherings. Yet we know that worship is much more. Even for those who might freely state that "worship is a lifestyle", Grant's potent presentation on the true meaning of worship is sure to challenge. 
How Do We Help and Support People Who Are Grieving? (new time slot) - Michael Hempseed - Mental health author and TEDx speaker.
Helping support you and your friends through grief and loss.
Another Look at the Prophetic - Luka Robertson - Keynote Speaker and Senior Leader at Hope NZ.
Hearing from God and sharing it with others.
Keys to Authentic Connections - Psychologist Bev Monahan.
What does authentic connection look like in your friendships and relationships? 
More Event Information...
1. TICKETS: To get the best price possible it is advisable to pre-register online. Entry is by wristband only, which you will receive at the Event. One wristband is for one person and may not be swapped or shared with another person during Event.
2. FOOD AND DRINK: Kidds Cakes & Bakery is an 8min walk from the venue. There are other cafes around but they will require driving. Tea and coffee are available for sale at the venue. However, you are most welcome to bring your own food and drink.
3. PARKING: Parking is available on site and on the surrounding streets.
4. HAVE A GROUP? There are special discounts and offers available for groups of seven or more men.
5. FINANCIAL ASSISTANCE: Promise Keepers sets the fees to recover the actual costs of putting on the Events. We want to ensure that all men are able to attend these Events. Please contact us if you cannot afford the full fee: ph 0800 PROMISE (77 66 47).
6. EVENT HANDBOOK: The Event Handbook will be available for you at the venue.
7. BIBLE: Please bring a Bible (if you have one).
8. ACCOMMODATION: Each person is responsible for their own accommodation arrangements. Groups may want to contact local churches to seek use of church hall facilities, billets or stay in local accommodation.
9. REFUNDS: Tickets can be gifted or transferred to a new holder for the current Event. In the event of sickness or family emergency, tickets can be transferred to another Event this year or to next year's Event. All transfers must be confirmed through the Promise Keepers office. Refunds will be given upon application up to seven days after the Event. A $25 non-refundable administration fee applies.
10. COVID-19 POLICY: You must not attend a PK Event if the following applies to you:
You are currently subject to a 14-day isolation period.
You are awaiting the results from a Covid-19 test.
You are feeling unwell with symptoms associated with Covid-19 (e.g., fever, cough, sore throat, shortness of breath, sneezing/running nose, loss of sense of smell and/or taste).
You have come into close contact with any known or suspected case of Covid-19 in the past 14 days.
11. In the event Promise Keepers NZ needs to cancel an event, tickets will be refunded through Eventbrite.
12. OTHER TERMS & CONDITIONS: More Event Terms & Conditions are listed [here]