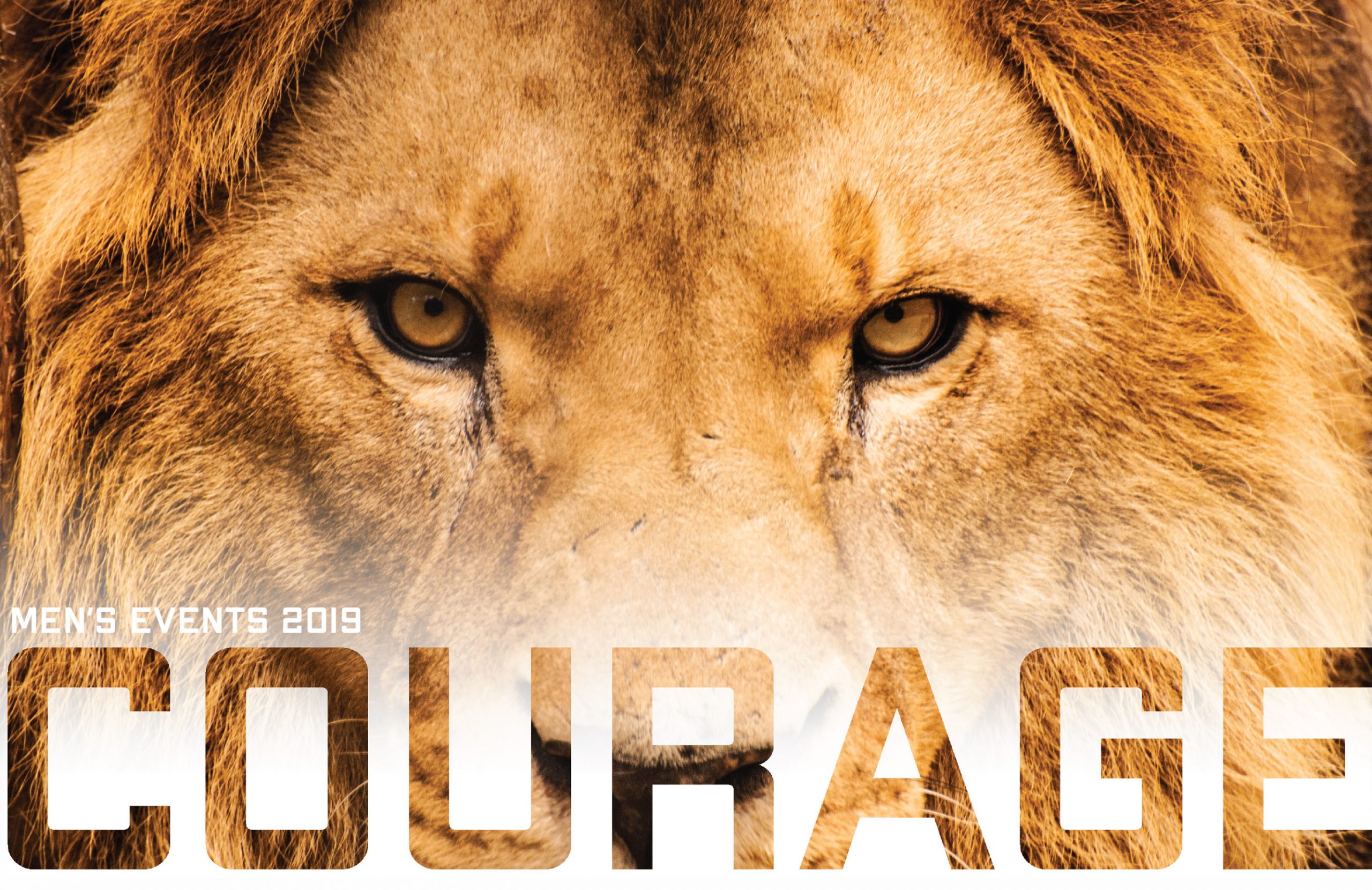 Time
Friday: 7pm - 9:30pm; Saturday: 9am - 6pm
Venue
Victory Convention Centre, 98 Beaumont Street, Freemans Bay
This Event is now complete
COURAGE is living the life Jesus has for you.
You may feel more like Jonah than Joshua. You may want to put a fleece out rather than step out, but in your heart you know God is calling you.
Let's step forward together. Enter into His presence. Live out your destiny.
"Be strong and courageous. Do not be afraid; Do not be discouraged, for the Lord your God will be with you wherever you go." Joshua 1:9
PK Events help men to focus on life purpose, destiny, character and integrity, based on Christian values.
At this Event connect with God. Be inspired and equipped by dynamic speakers, impacting worship, prayer and interaction with other men in an atmosphere of faith and in the presence of the Holy Spirit.
David Dusek – "Authentic Christian Manhood" 

David's mission is to encourage and equip men to live their lives for Christ. He utilises his life experiences – including his upbringing in a non-Christian home, coming to Christ as an adult, and extensive business background – to reach men in a way they can understand. David is the founder of Rough Cut Men Ministries, which is primarily a live, interactive men's experience using a strategic combination of action movie sequences, real world current events, biblical truth and fireteam-sized discussion times. David helps de-isolate men by creating solid friendships that foster support and encouragement.
Mick Duncan – "Being Courageous in the Face of Adversity"
Dr Michael (Mick) Duncan is a speaker and author who knows what it's like to go through difficult times. This included a painful season where his daughter was tied up in a lifestyle of drugs. Mick will share the journey of his prodigal daughter and the way that God helped Mick and his wife, Ruby, through this. Mick is a "minor-kiwi-prophet" who has a PhD in John Wesley, a Masters in Dietrich Bonhoeffer and a 10 year slum-street-degree from Manila. Mick's latest book is Alongsiders, on how to do time with people who are different and difficult. Mick currently pastors without being a Pastor, speaks throughout NZ & Australia and has a heart for vulnerable kids needing care and protection.

Richard Black – "Growing Stronger - Heal your past, empower your present, ignite your future"
Richard Black (BA, BD, MCouns, MNZAC) is the founder and Managing Director of Strength to Strength. He is sought after as a counsellor and communicator. Richard has worked in pastoral leadership for many years and understands the everyday struggles that people face and the demands on church leaders. Through his counselling, training, and public speaking he helps people strengthen their thinking, be proactive in relationships, and succeed with life.
David Dusek – "Living the Life Jesus Has For You"
David Dusek is the founder of Rough Cut Men Ministries. David is a frequent keynote speaker at Iron Sharpens Iron Men's Conferences and men's conferences worldwide. He is the author of the Amazon #1 Best-Selling "Rough Cut Men: A Man's Battle Guide To Building Relationships with Each Other, And With Jesus".
He has developed "Who Has Your Six", a video series designed for the US Army Chaplain Corps worldwide to combat soldier isolation, domestic violence, alcoholism and the ever-escalating suicide rate. He has worked with soldiers, sailors, airmen and Marines presenting his "unit friendly" content at the United States Naval Academy, the United States Military Academy at West Point, Joe Gibbs Racing, iconic Army units like the 101st Airborne Division, 7th Special Forces Group and 1st Cavalry Division, and at numerous Army installations in the US, Germany and Korea.
ELECTIVES
Now you can create your own PK experience tailor-made for your life situation. We have 18 Electives on Saturday afternoon offering more flexibility, more speakers and more topics for you to choose from.
You can get fresh perspectives on topics relevant to you, whether you are young or old, single or married – or just want to improve your health, finances, spiritual wellbeing or ministry.
It's your choice!
Elective 1 options

  1.00pm to 1.55pm

Choose 1 topic from these 5 options:

Living A Life Worth Repeating - David Dusek
Deep within the heart of every man is the desire to finish well.
Using movie clips from movies like Braveheart, Saving Private Ryan, Forrest Gump as parables, David will explore what it means to leave a life worth repeating.

Sex and Intimacy - Richard Black
Women want to feel loved to give sex. Men want sex to feel loved. This tension means that our relationship is very important to true intimacy.

Healing - Geoff Wiklund
Healing is an essential part of our discipleship journey.

Dealing with Dark Times - Mick Duncan
25 years of things going from bad to worse. Knowing God is with us even in the dark moments.

Preparing for Retirement - Peter Goulter
Preparing for the Third Age. Explore the many changes facing you at this time of life.  

Limitless Youth - Tini Mataafa is a full time youth worker and an amazing communicator.
Throw the limits off and be the generation God has called you to be.
Youth focus - all men welcome
Elective 2 options

  2.00pm to 2.55pm

Choose 1 topic from these 5 options:

Strengthening Couples - Richard Black
Building on foundations of love, trust & hope. Dealing with relationship breakdown & restoration. Communicating effectively.

Becoming an 'Alongsider' - Mick Duncan: How to deal with those who are different and difficult

The Russian Roulette of Porn ­- Paul Monahan
Is porn ruining your life? Assess whether PK can help you or someone you know find freedom. PK has seen life-changing results through the Set Free programme which has a proven track record in addressing the pornography problems that individuals and families face. If you want to know more start by attending this elective. Also see PK's Set Free page here >>

Biblical Authority in the Scientific Age - Mark James
"Always be prepared to give an answer…" 1 Peter 3:15

Trials and Testimonies - Mentoring men through serious illness. Standing with those in a health crisis. - Peter Goulter and Paul Klenner

Love, Dates and Heartbreaks - Dan Goodwin
Relationships are complicated. You want to get it right. Let's talk about that.
Youth focus - all men welcome
Elective 3 options

  3.30pm to 4.25pm

Choose 1 topic from these 5 options:

Mind Health for Parents - Richard Black
Boundaries, button pushing and bringing out the best. Building trust and regaining trust. Helping your child to tell themselves the truth.

The Authentic Christian Life - Authentic Mag. Editor Dave Firth
Anchoring our life to the Word of God.

Determined to Succeed: Grit, Passion & God - Psychologist Bev Monahan
Grit is sticking with your future… to make your goals a reality. It takes courage and vision to succeed.

Ministry to Widows and Solos - John Burgess and Jerome Jacobs with John Subritzky
Meaningful ministry with your mates.

Walking in the Anointing - Geoff Wiklund
Experiencing the Holy Spirit

Spiritual Strength - Sam Tolley
Being firm in your faith. "Be strong in the Lord and in His mighty power" Eph 6:10.
Youth focus - all men welcome
David Dusek will be speaking at the COURAGE 2019 Men's Event in Auckland and at meetings around the country.
Here he tells us why we are stronger when we have brothers in arms fighting the battle around us...
For more info about David Dusek's Tour click here
(Event information subject to change)

More Event Information...

HAVE A GROUP? There are special discounts and offers available for groups of seven or more men and also if your church signs up as a Partnership Church. Group Info [here]
TICKETS: To get the best price possible it is advisable to pre-register online. Entry is by wristband only, which you will receive at the Event. One wristband is for one person and may not be swapped or shared with another person during Event.
FINANCIAL ASSISTANCE: Promise Keepers sets the fees to recover the actual costs of putting on the Events. We want to ensure that all men are able to attend these Events. Please contact us if you cannot afford the full fee: ph 0800 PROMISE (77 66 47).
FOOD AND DRINKS: Various fast food outlets and cafes are within walking distance of the venue. Tea and coffee are available for sale at the venue. However, you are most welcome to bring your own food and drink.
PARKING: There is parking available on the surrounding streets.
BIBLE: Please bring a Bible (if you have one).
EVENT HANDBOOK: The Event Handbook will be available for you at the venue.
ACCOMMODATION: Each person is responsible for their own accommodation arrangements. Groups may want to contact local churches to seek use of church hall facilities, billets or stay in local accommodation.
REFUNDS: Tickets can be gifted or transferred to a new holder for the current Event. In the event of sickness or family emergency, tickets can be transferred to another Event this year or to next year's Event. All transfers must be confirmed through the Promise Keepers office. Refunds will be given upon application up to seven days after the Event. A $25 non-refundable administration fee applies.
OTHER TERMS & CONDITIONS: More Event Terms & Conditions are listed [here]