This January, like last January, my wife and I volunteered at JH Aotearoa Parent and Child Adventure. Last year was our first year and it was impactful enough to volunteer again in 2021. Some of you may remember me writing about this experience last year. Once again, we were blessed to be volunteers. We were one of a 100 volunteers ministering to 140 guests (parents and their teenage or young adult child).
There is no relationship between a parent and child/teenager/young adult that can't be improved. The range of guests and their relationships covered the full spectrum from complete to minor brokenness. After six days at camp everyone is on a new journey of healing in their relationships with God and their parent/teenager.
One facet that really impacted me this time were the number of people who were set free from generational brokenness.
There were stories of generational physical violence. Generational sexual abuse. Generational verbal abuse. Combinations of these. Patterns of unwanted sexual attention and weakness. The list goes on. The Bible says in John 10:10, "The thief comes only to steal and kill and destroy; I have come that they may have life, and have it to the full."
Some of these guests had patterns of life being stolen. It broke my heart to hear their testimonies. It's worrying when a person says, "It is like I have a sign on my forehead that says 'abuse me'". But after prayer to cut these things off we could see the change on their face and a freedom in their spirit. The sign on their forehead now says, "I am a child of God, loved and precious."
In my life as a young man when I became aware of the reality of the principles of "sowing and reaping" from personal sin, and generational sin, I asked God to show me patterns that existed in my family. There were two specific patterns that I saw. In my family the first male child in every generation was either sickly and/or died young. In my wife's family every male was a procrastinator and to some extent never reached full potential. While the enemy tried to take our first son out as a baby, after much prayer he was set free and had his immune system miraculously rebuilt. He is a strong healthy young father of three children. Neither of our sons are procrastinators.
Have you noticed patterns of behaviour, weakness, or even undeniable sin in your life that you can't stop? Can you see the same pattern in other family members? Is the same pattern also evident in the generation(s) before you? If you are old enough you may see the same patterns in the next generation after you. The Good News is Jesus can deal with this pattern.
If you have identified a pattern, can I suggest that you contact your Pastor or raise the matter with the men in your men's group? If you are feeling unconnected and would like to talk to someone, respond to this email with your phone number and either Paul or I will contact you.
Make a good start for your 2021. Also set the next generations free from generational sin.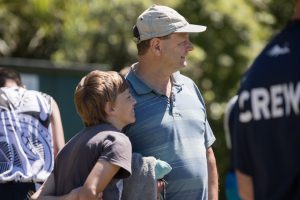 If you want to invest in your teenager or grandchild or any parent and teenager, consider the JH Aotearoa Adventure. For more information see www.jh.org.nz
Blessings
Peter Goulter
Also read my Summer Camp Reflections - the top 3 things that impacted me [Read here]
Get strength for today and hope for tomorrow. Sign up to PK emails that will empower and encourage you.